You can't always choose when you're going to be pregnant, and you definitely can't decide the weather. When having a summer pregnancy, beating the heat isn't just a way to stay comfortable, it's important for the health of you and your baby. Here's some of the things that I would never do pregnancy in the summer without:
Snoogle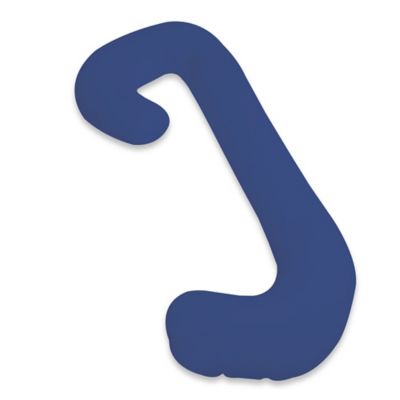 I honestly might love this pillow a little too much. Even before pregnancy discomforts started setting in, my Snoogle was basically the only thing that helped me get to sleep at night. Along with being oh-so-snuggly, the top part raised my head enough to help out with heartburn. As the second trimester wraps up, my list of aches and pains are growing. The Snoogle has continued to keep me comfortable. The material is very breathable and won't leave you burning up during the summer. It is great not just for sleeping, but also for support during the day. Mine is wrapped around me as I type this.
You can check out Leacho's website to see a full list of retailers. Since I had some forgotten Bed Bath & Beyond gift cards laying around, I got this one from Buy Buy Baby. They also usually have a 20% off coupon floating around somewhere, so be sure to look for that!
Denim Maternity Shorts

A must-have summer staple for me any year is a great pair of denim shorts. Being pregnant definitely hasn't changed that. Denim shorts with any top is such a classic look and so versatile. There are so many options in terms of getting them to fit your belly, but I recommend a full panel made from a light fabric. If the fabric is too thick, you'll feel like you're being suffocated. I tried the side panel option, but wasn't a fan of how they looked on me. The full panel definitely helps to give my belly a cute shape and offers support.
When it first started getting warm, I got a pair of full panel maternity shorts from Old Navy. I have worn them at least every other day this summer and they still look and feel great. Sadly the maternity section at Old Navy seems to be phasing out or at least undergoing some changes. My local store no longer has a maternity section, and the online selection is lacking. They don't seem to carry the pair that I got anymore, but if you'd like to check out what they do have click here. My other go-to options for maternity wear are Motherhood and Destination Maternity. As for any pregnancy purchase, I definitely recommend waiting for a sale or looking for coupons, there's usually some available!
Sunscreen & Bug Spray Combo
While avoiding bug bites should always be a priority during pregnancy, the emergence and spread of Zika this year has been at the forefront of most pregnant women's minds. This was definitely my case, so I knew I would be regularly wearing bug repellent for the first time in my life. Thanks to my almost superhuman ability to sunburn, I also wanted something that had SPF. A quick trip to Walmart found this spray. One of the biggest appeals for me is that the bug repellent is natural, which means no DEET. (There are as many opinions out there as there is information on DEET during pregnancy so I suggest talking it over with your doctor and making your own educated decision. After reading and talking to my doctor, I decided it would be best to avoid it in any bug spray.)
I keep a can in my car and always give myself a light coat before going outside for extended periods of time. While there are definitely more options, I've found the Equate to work exactly as I need. It is also really great at being water resistant, which has been a problem for me with sunscreen options in the past.
Comfy Flip Flops
My birthday present from Mr. Man last year was a pair of Chacos. I could spend hours doting on how much I love those sandals. Not quite shockingly, pregnancy changes you. And, one of the lovely things that comes along with that is growing, swollen feet. Thanks to the overinflated versions of my pre-pregnancy feet, I haven't been able to fit into my Chacos since I got out of the first trimester. This is when I realized just how much I wore them. The only other casual summer shoes I had were my Yellow Box flip flops, circa 2010.
Comfy, spacious, and  already well-worn, these were perfect. I have my eyes on a new pair, but I am still in shock at how well mine have held up. They are definitely an investment, without the investment price tag.
Great Swim Suit
In a bout of confidence, I decided to buy a high waisted bikini for our honeymoon last summer. By the time swim season rolled around this year, the bottoms for that suit no longer worked for me, but I loved the top. I was faced with a decision: buy a maternity swimsuit, wear a tankini I already have, or wear normal bikini bottoms with my favorite top. I took the plunge and opted to wear the latter. So for the first time in my life, I have spent this summer sporting a "real" bikini, and saved quite a bit of money in the process. But, I will say the confidence boost has been priceless.
My recommendations for a pregnancy perfect swimsuit? Look for one that has great support up top, however much coverage you want, and most importantly, makes YOU feel beautiful. To get the suits pictured above, click here.
Let me know: What are your must-haves for a summer pregnancy?